Music: Raquel Kiaraa Returns With Electrifying New Album, 'Defying Odds'
Defying Odds by Raquel Kiaraa, is officially out. Singer-songwriter Raquel Kiaraa returns with her electrifying new album, 'Defying Odds'. Receiving support from international radio stations, programs and brands such as Natan (Belgium), McDonalds (Switzerland), Shakeaway (UK) and Helly Hansen (Norway), Raquel is making a clear statement that she means business in the industry.
A compilation of Raquel's most unique and charismatic songs, this album has a profound meaning. In it, Raquel is owning her power, celebrating the beauty of not only giving life to the child but giving light to herself, her strength, and her music goals.

Powerful and commanding, Raquel shows that she will continue to rise through all challenges as she moves through pregnancy and toward becoming a mom for the second time. The title of the album speaks to women's power to transcend the status quo. Time and again, women rise to the occasion proving to themselves and the world that the impossible is possible, and their dreams are alive, and we are achieving them.

Speaking about leading single "Love Got Me Sick", Raquel adds, "It's about the complexities we all face around love, the darker side of it. I have loved and lost. I have loved and changed. I have loved so thoroughly I could no longer tell where I stopped, and it began. I've had passion used as a weapon against me, a tool for manipulation I was too blind to see.
I have felt mad, passionate, love and love as comfortable as a king-size bed. I have loved so hard it hurt, and I've faked a more profound love than I felt. I've withheld love and had love withheld from me. I have run from love, feared my passion and denied truly seeing love. I am no stranger to love.
Yet, I have experienced and understand many sides of it – the good and the bad – and am no longer blind to its powerful effects on one's existence. Love is all at once; terrifying and magical, it's one thing in this world that will never be portrayed by words alone, for its feeling lives in every pocket of our mind, body and soul. Love is powerful."
As pure and honest as ever, her new songs are charged with intense emotions and personal experiences. Raquel brings authenticity to every moment of every song on this album. To name a few, "Lost Without You" and "Love Got Me Sick" are two of the marvelous stand-out tracks on the album. The music is intricate, the lyrics – simple yet powerful. One can't stay away from Raquel's enchanting voice and her majestic delivery.
Raquel leads a life of defying odds, learning to sing and play the piano at 32, writing all her lyrics and creating her first album and stepping into motherhood all at the same time. By 2019, Raquel was motivated and determined enough to turn her goals into reality. Believing in the power of her music, she assembled a band of accomplished musicians.
After only two rehearsals, some vocal lessons and music sheets for 13 original songs, Raquel produced two sold-out 250+-seater performances, selling her tickets and running her publicity single-handedly. Her success is a result of hours of hard work and determination.
"One cannot rise without lifting others" is her mantra and the solid philosophy behind her coaching. Not one to shy away from a challenge, Raquel pushes boundaries both vocally and physically. Striving to be the best at whatever she puts her mind to (coach, songwriter, vocalist, actor) with skills still yet to be realized, she strongly believes in giving back, including philanthropy and mentoring women through self-image and self-love coaching.

"Defying Odds" shows that Raquel no longer accepts the impossible because she makes all things possible. In her own words: "We are women – Defying Odds. I am a woman – Defying Odds."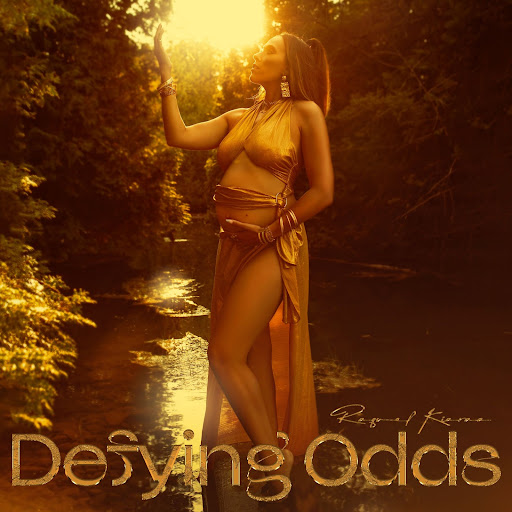 Listen to Defying Odds Below