From an early age, DIMI's love for music ignited a flame within her that has grown into an unstoppable force. With a feisty attitude on stage, she captivates audiences with her passion and unleashes fiery moves that set the Sydney music scene ablaze.
DIMI's unique style and rock essence have taken her to some of the most iconic venues in the city, from the electrifying Qudos Bank Arena to the adrenaline-pumping WIN Stadium. Whether performing in front of an intimate crowd of 5 or rocking a massive audience of 5000, DIMI leaves an indelible mark on every stage she graces.
Her journey as a musician has been one of relentless dedication and perseverance. Having honed her skills through years of live performances, DIMI has now ventured into the realm of songwriting, crafting her own music that resonates with the depths of her soul. A powerhouse to be reckoned with, DIMI is poised to leave an everlasting impact on the music industry, one electrifying performance at a time. Get ready to experience the fire and rock essence that DIMI brings to the forefront of the Sydney music scene.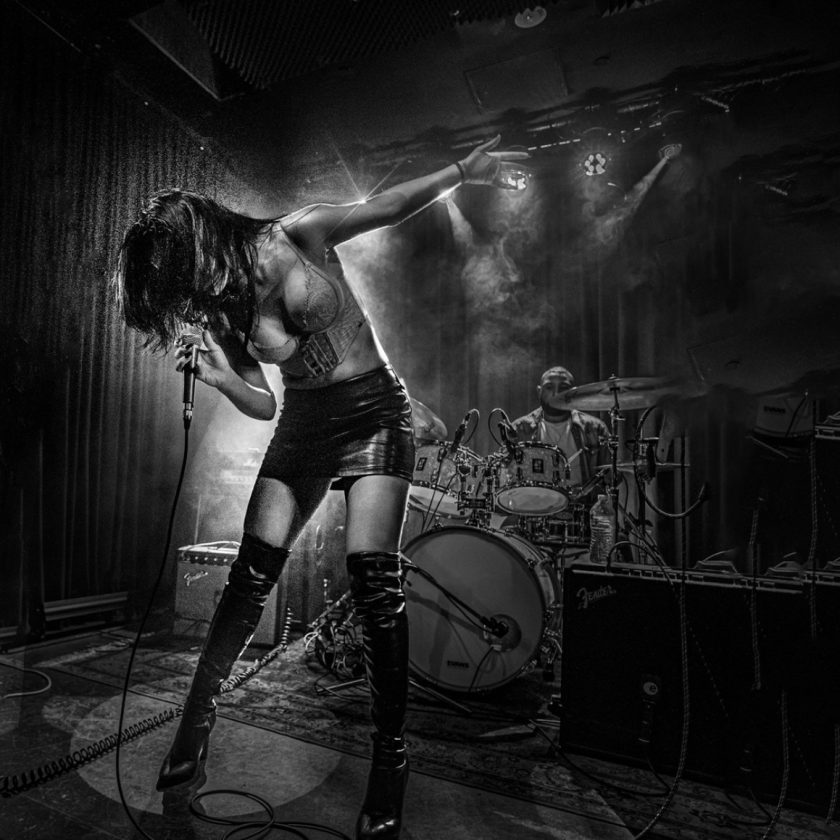 Hello there, Welcome to Spinex Music.Thank you for taking out time to respond to us. To kick things off, please briefly tell our readers what inspired you to write music.
DIMI – From a young age, I have always had this charisma and energy that caught the eye of many. At weddings, the bride would have to stand on a chair just to take back the attention, but there has always been a deep-down love and fascination with music that I felt growing up. With Taylor Swift being my inspiration to play music (and the first concert I attended), I picked up a guitar and started singing.
Though songwriting never came naturally at such a young age, being on stage is where the passion was shunned. Later in life, Ed Sheeran's acoustic folksy pieces caught my eye and sparked my journey of lyric writing that further progressed and to this day has changed into what I believe reflects me, and through the last year or so, I'm very proud to share the news that originals will be coming out soon!
When did you realize you were going to make music professionally?
DIMI – Everything feels right whenever I step onto a stage. I take a deep breath and realize performing is what I'm meant to do and what I have always done. That adrenaline rush of the first time a crowd applauded me, to the time a whole crowd cheered my name in sync, to the first arena show, to the first Big well-known festival band invited me not only to play their show but to get on their double bass and sing with them and so much more, it's those moments and all the little ones like seeing the smile of just one person in that crowd is what makes it worth it. Then I realized I was gonna make it my job to put those smiles on with the power of music.
Tell us what is so unique about you and your music?
DIMI – The uniqueness comes from the forever-changing incredible experiences brought to people by myself at every show. The identity appears when the lights come on, my hands go up, and I'm ready to fucking rock because live music is still alive and will forever bring people together, so the uniqueness comes from those artists like myself who are whiling to keep it alive and rock like it's your last every time! The essence is found in the time crafting deep and meaningful lyrics that have been carefully thought out to capture and connect to people.
Can you share a story about your funniest mistake when first starting? Can you tell us what lesson you learned from that?
DIMI – Oh, the number of teeth I've almost smashed during shows because of the mic and hairs caught in my bassist's bass. The number of times I've practically fallen off the stage or almost rolled an ankle. I'm very accident-prone, but I take that as a lesson that all those times I almost hurt myself were times I almost rocked my hardest. The biggest lesson I've learned through all of it is that if you love what you do, the people that love you will always be there to catch you.
Tell us about your latest releases and what inspired you to create them?
DIMI – My latest release isn't out, but coming out very soon. It is meaningful to me as it depicts through the dark and deep metaphors of evil, the sad reality, or the love and hurt we all have or are experiencing. The lyrics genuinely captivate creatively, a hurried down thought and hope we all wish for. I can't spoil too much, but if you've been broken or feel in a dark place, I promise you're not alone in this one when you hear it.
Please give us a brief insight into your upcoming projects.
DIMI – After now coming down off a massive high of playing some of the most incredible gigs with some of the craziest bands (like when wicked things invited me to play with them on stage etc.), I am now fully indulged in finishing and getting out many originals that are or have been in the works.
What do you wish you had been told when you first started making music that you think would help artists just starting out?
DIMI – There are no mistakes, but for those of you like me (who are perfectionists and thinkers that believe there are mistakes), allow yourself to make them. Just keep creating; it's how I found what I like, love, hate, and despise. It has brought the art true meaning and helped me find myself in songwriting.
Which tips would you recommend to your industry colleagues to help them thrive and not "burn out"?
DIMI – Not only are you learning the art, but you are learning yourself. Learn your limits, strengths, and weaknesses and use them to work smarter and more complexly because hard workers make great musicians. Learn the insides of your brain; creativity is born, so look after it at all costs, and take care of yourself.
What do you do when you don't do music (creative or otherwise) that you are passionate about?
DIMI – When I'm not on a stage or in a studio, I'm on a stage or in a studio, not for music but for the pole. I need help in the movement, hustling, or enjoying life's moments by meeting people and always keeping busy. I recently took up pole dancing and ever since can't seem to stop (what can I say? I'm a performer).
Any last piece of advice for those artists who just started making music?
DIMI – Don't stop. It took blood, sweat, and literal tears, and it may take the same for you, but if music is your passion and writing fill your soul with fire, don't let that burn away.
How can our readers follow you online?
DIMI – I am most active on my Instagram. Follow me on all social media platforms below: