We had the pleasure of interviewing the talented Olga Dudkova to discuss her latest single, 'Falling For The Music,' and delve into her creative process, inspirations, and aspirations as an artist. Known for her unique sound that effortlessly fuses jazz, soul, hip-hop, and pop influences, Olga shared with us how she manages to maintain her distinctive style while exploring diverse genres.
Growing up in China and Siberia exposed Olga to diverse cultural influences, which she seamlessly infuses into her music. Her early exposure to an international community in China made her appreciate the beauty of cultural diversity. Her education in Russia, where she learned classical piano for seven years, provided her with a solid foundation in both discipline and technique. Today, she credits her teachers for imparting valuable skills that she continues to utilize in the studio.
Olga's impressive vocal range shines through in 'Falling For The Music,' and maintaining versatility and control is a result of her dedication to practice and continuous vocal technique improvement. Keeping her body fit and performing live as much as possible also contributes to her vocal prowess.
The eclectic mix of genres in Olga's music comes naturally to her. She never limits herself to one genre and instead follows her heart and soul when writing songs. Her musical journey, which took her from classical music to funk and soul bands, jazz studies, and exposure to world music and pop production, has greatly influenced her artistic style. Drawing inspiration from her international experiences, Olga believes that as an artist, one must explore different places and embrace new influences to continually evolve and stay inspired.
As an artist, Olga's primary goal is to bring joy and good vibes to her listeners. She wants her music to serve as a source of inspiration and strength for people to overcome challenges in life. As an immigrant, she understands the value of support and hopes her music can provide that support to others. Her message is one of empowerment, believing that anyone can achieve their dreams. Ultimately, she dreams of going on a world tour, spreading her message of positivity and reaching as many people as possible.
Congratulations on the release of your latest single, 'Falling For The Music.'  The track beautifully blends neo-soul, jazz, and contemporary pop elements.  Could you share with us the creative process behind crafting this elegant and energetic song?
It was back in 2021. My producer and I wanted to create a danceable track for my live shows to give my audience a chance to dance with us.
I'm a fan of beautiful chord progressions since my childhood. It's probably one of the reasons why jazz attracted me so much after classical music. So I definitely wanted to have some sophisticated chords, while my producer was concentrating on creating a groove and bassline, that would rock.
In the lyrics I described how I feel about performing live, the process behind it, and of course while concerts and also this feeling when it's already ending, but I'm the one who doesn't want to leave the dance floor. 
Your sound is known for its eclectic mix of Jazz, Soul, Hip-Hop, and Pop influences. How do you manage to fuse these diverse genres together while maintaining a sound that is uniquely yours? 
It happens naturally. I never limit myself to one genre, while writing I just go with the flow, and follow my heart and what my soul wants to say.
I learned and heard a lot of music. Starting from classical music, when I was a child, then joining a funk and soul band as a teenager, while my father was playing in a rock band. I studied jazz, and during my studies, I went to classes like world music, pop production. I sang with big bands, pop and soul bands. I guess it is all inside of me and just comes naturally while writing.
'Falling For The Music' carries a strong message about the appreciation of art and music. Can you tell us more about the inspiration behind this track and the emotions you wanted to convey to your audience? 
I remember the time during the pandemic. I thought to myself for a minute that I might stop doing music. And I remember the night when I performed for the first time after the first lockdown and I really didn't want to leave the stage, I was the happiest when the audience asked for two encores, I was dancing like they like memes – dance like nobody watching. So this feeling made me realize how important it is to create art and enjoy it. And that without it our life would not be the same. 
Having studied jazz singing in Rotterdam and Munich, you've taken your musical journey far and wide, performing throughout the US and Europe.  How has this international experience influenced your artistic style and approach to creating music?
I would say every trip inspired me and left a mark on my style. I would even say that as an artist you have to go to many places, discover new things, and grab your inspiration from around the world. I try to travel continuously to keep the inspiration for songwriting. 
Growing up in China and Siberia must have exposed you to different cultural influences. How do you draw from these experiences and infuse them into your music? 
When I went to China as a kid, I was just 6 or 7 years old and for the first time, I got into the international community with people from all around the world. From that moment on I realized that I want to be surrounded by people from around the world. 
I'm thankful that I was learning music in Russia, I was learning classical piano for 7 years. I went to a music school, where I had piano lessons, choir and music theory lessons, and exams twice a year from the age of 7. It gave me a great base. I learned both parts of music – discipline, and technique, but also the fun and aesthetic parts of it. Even to this day, when I'm in the studio, I thank my teachers for teaching me – a lot of skills that I have now I have from them.
Your impressive vocal range is showcased beautifully in 'Falling For The  Music.' How do you work on maintaining versatility and control in your voice while exploring different genres? 
Thank you so much! I'm really glad to hear it. To that, I'm thankful to every mentor and teacher I had in my life. I always make sure I practice vocal techniques, even if I don't have recordings. I make sure I keep my body fit and I try to perform live as much as possible.
As an artist who bridges the gap between lounge and pop, what is the driving force behind your desire to experiment with various musical styles? 
I never categorized music strictly. For me, music is just music, no matter if it's classical music or rock. And on top of that sometimes I'm really bad at making decisions if I have to choose. So I just don't, when it comes to writing songs. I just write whatever feels natural at the moment. And I also love to try things out and I don't limit myself there. If I feel like putting jazz chords on top of a disco beat – I just do it 
Winning the Finsterwald Singer and being a finalist at prestigious jazz awards must have been incredible achievements. How do these accolades inspire and motivate you in your music career? 
(I was a finalist at Finsterwalder Singer and winner of the Sparda Jazz Award)

I remember when I played a concert as a winner of the Sparta Jazz Award. And after my show audience asked for an encore. So I went back on the stage and I asked them: "What should I play for you guys? An original tune or a cover, beautifully arranged though?"
And they all voted for the original song. That moment gave me confidence that my song want to be heard and after that I started writing more original songs.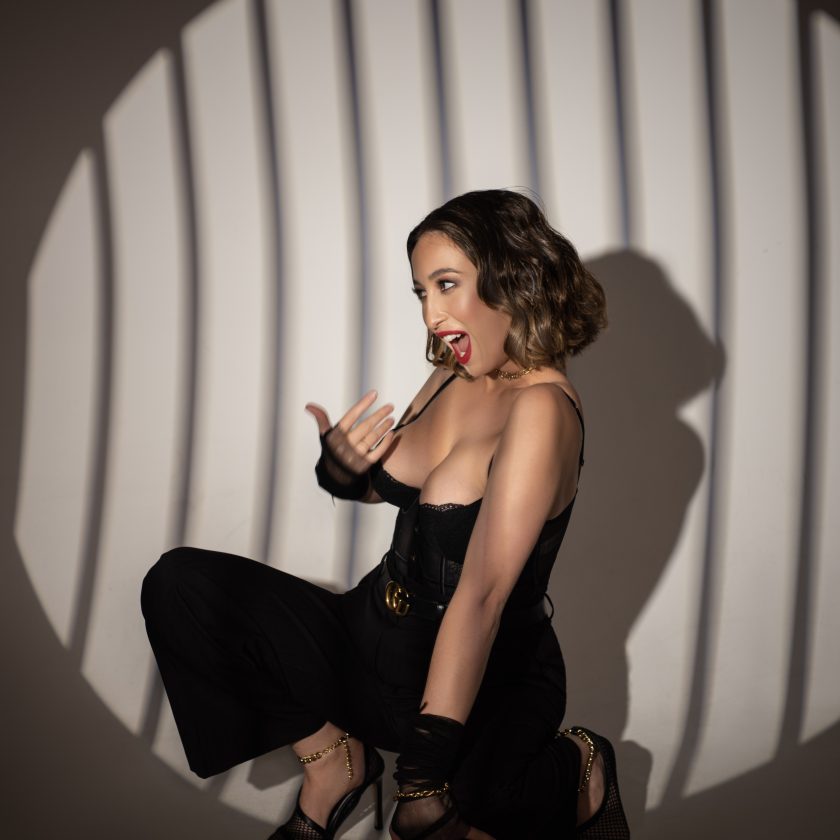 With live performances returning after the pandemic, how do you feel about connecting with your audience once again through your music? 
I have the feeling I have never been so thankful to perform live. I love every moment of it. And also I think people started appreciating live music more. It feels magical to be able to do this again
Looking ahead, what can we expect from Olga Dudkova in terms of new music and future projects? 
This year I'm bringing out my new EP, it will be called "Falling For The Music". With my first single and music video I already show what to expect – love for music, fashion, and girl's power. 
I'm also working now on developing my live shows to create a unique experience for my audience. I would like people to have a variety of moments – from danceable beats to strong and emotional ballads.
As an artist, what do you hope to achieve with your music, and what message do you want to leave for your fans?
I always wanted to give people joy and good vibes with my music. I want people to forget all their worries when they come to my concerts and go home after that happy and full of energy. 
I want to give people the strength to achieve things in life. As an immigrant, I know that some things are just difficult in life and it's always good to have support from the outside, no matter if it's your friend or a song that gives you hope. My mom is the strongest woman I know, she always taught me that girls can achieve anything they want – also this message I'd like to carry with my music.
One day I hope to go on a world tour because I want as many people as possible to hear this message.
Lastly, with 'Falling For The Music' now out in the world, how do you want listeners to feel when they listen to your music, and what impact do you want your songs to have on them?
I want people to grove and dance to it. Forget all the daily worries and just be in the moment and in the music. Be yourself, sexy and free.