Interview With Kelsey Warren – After successfully releasing their previous single, "Swooning On You", NYC band Blak Emoji leader Kelsey Warren, have finally released their impressive new album, Eclectro. Produced by Blak Emoji frontman, singer-songwriter and multi-instrumentalist Kelsey Warren, the 12-track collection is their most impressive and expansive release to date. 
However, the newly released album 'Electro' stems from the sound and style that can be heard throughout the project. Coining their own genre, the band have dubbed the album's sound as "eclectro" due to its all-encompassing electronic sound. "'Eclectro' pretty much sums up Blak Emoji's music to a tee, especially the new album", says Kelsey Warren. "It's predominantly electronic based but also harmoniously blends pop, R&B, alternative, experimental and even folk.
The eclectic sound of the band can be traced back to Kelsey' Warren's childhood, where he was immersed in soul, R&B, pop and rock music growing up in South Jersey. And after learning piano concertos, jazz guitar standards, drums and other instruments, Kelsey threw hip-hop, punk and minimalist classical into the mix, which took his sonic journey to new destinations.
In a recent Interview with the band leader kelsey Warren, he fielded questions from us by disclosing some pertinent things about the band, their new album 'Eclectro' and some of the challenges that the band is facing. Check out the interview below and be sure to stream their new album beneath.
What does your band name Blak Emoji, stand for?

Blak Emoji stands for individualism and options in a monotonous world or collective.
Your band has a new album 'Eclectro' that is slated to be released on October 1, what should your fans expect from this album?

Expect an eclectic range of music styles under the umbrella of electronic pop, with a few twists along the ride. Lots of dance, soul, groove, grit, and yes, acoustic guitars and cellos also swim through all the blips and bleeps. Eclectro is like a focused variety of subject and sound.

Briefly explain the making process of 'Float'?

I made the beat for "Float" 2 years ago and kept revising it, creating new sounds in Logic Pro. That track stuck out amongst the other dance tracks I was writing at the time. Last year around the beginning of the pandemic, the lyrics finally came out in a day just like that. I was feeling a sense of gratitude for what I had during such a challenging time where so much was taken away. That's the basis of the song lyrically and vibe wise.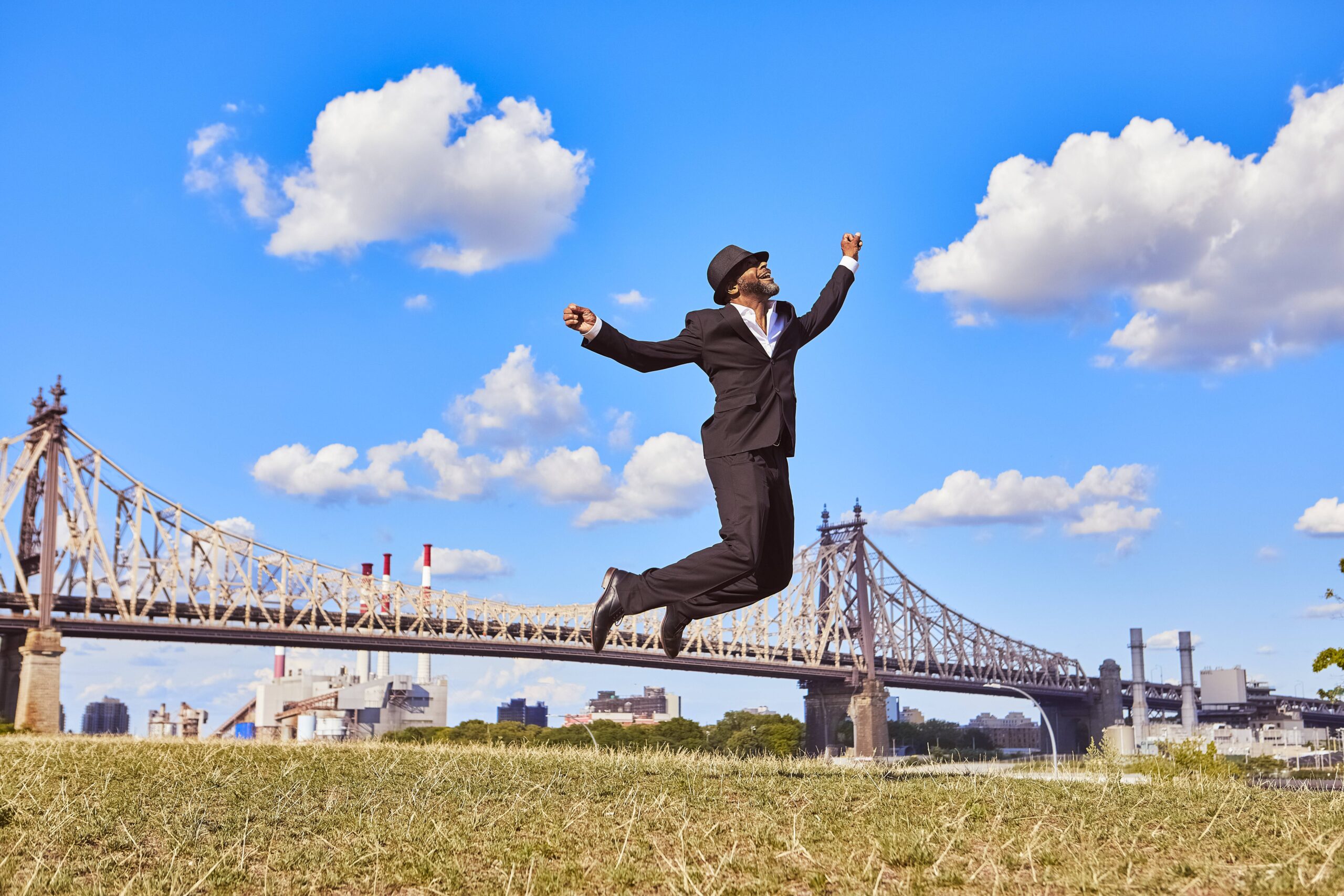 In a ratio of 5-10 how good is "Swooning on you" compared to "Float"?

Well the biased yet honest answer is that both singles are a 10 in my opinion. What lol?!

How did you meet Sylvana Joyce, Bryan Percivall and Max Maples?

I've known Sylvana from the NYC music scene but never met her officially. I reached out to her about playing synth in Blak Emoji which was just a studio project at the time. We had one rehearsal together and by the end of it we were finishing each other's sentences. We
clicked instantly and effortlessly through music and conversation. She's also an amazing vocalist too and so much fun to play with live. I met Max about a week before our first live show. We had a previous drummer who "forgot" about our last 2 rehearsals. So I needed a new drummer for our debut show in literally a few days.
A friend recommended I go to this club to see this drummer who was playing that night. It was Max. He had a great pocket on the acoustic kit and was very creative with the SPD pad which is quintessential to our sound. I got his number, smoked some herb, and left him an embarrassingly high voicemail asking if he wanted to learn 8 songs in 2 days for a show.
He did, and he's been here ever since. We've had several bassists but I was looking for a more committed member for that real cohesive sound. Max recommended Bryan. They've played together quite a bit so they had that built in tight rhythm section sound already. And he fit right in. Excellent on 4 string bass and also creative with bass synth. He adds something real unique to the sound and I love that. 

What are some of the major challenges that your band is facing and what area will you be needing assistance in if any individual or organization wants to support your band?

We don't have a manager or professional management company presently which I think would help a great deal. A booking agent as well. I do this myself independently with my assistant and a few key angels behind the scenes.

In 2020, you managed to put up a brief European solo tour; amidst the outbreak of Covid-19. How did you manage to do this despite the global lock-down?
That tour was right before the lockdown happened. I remember spending more time in Paris because shows throughout the tour were getting cancelled due to the pre-COVID scare. I was in London rushing to get back to NYC before the border closed and made it back one day before. I played some solo gigs here and there. Also I travelled to a few Southern states in the U.S. for a documentary I directed in October, but was very cautious with everything. I was lucky, but really missed playing with the band and travelling internationally last year.

However, I recorded so much music at home and had the best time doing it. That pretty much kept me sane during the pandemic, along with watching movies and laughing with my daughter. I released a predominately instrumental mixtape type album called 'Antidote' which I'm proud of. I also produced a lot for other artists and collaborated a bit since I had time to sit down and focus on that. My friend Jasin Cadic and I finally put together a project we've been discussing for years lol! It's an industrial, electro-rock leaning group called PASSWORD :(dOOMsDay).
That was definitely a high and we'll continue releasing more singles and an EP for 2022. I love working with Jasin because he pulls out your best in whatever he's involved in. Plus it's fun and we kind of have our own language.  And I created the bulk of Eclectro during that time. Spent a LOT of time on it! There's so many songs that didn't make the final cut of the album so we'll see what happens with those in the future too.

Where do you draw your music writing inspiration from?

Inspiration comes from my past and current life as well as other people's lives and situations. Life period. Sometimes it's the news, other times it's nature. It's limitless actually. I think moving to NY opened me up as a writer and lyricist. Then after living in NY for many years, inspiration opened up again travelling around the world. But ideas can come at any given time. It's not a planned thing. I'll literally be out with friends and the sounds of car horns will inspire a song or idea. Then I'll leave my friends for 5 minutes to record ideas on my phone so I don't forget. That happens often.

What's the rationale behind 'Float'?

Float is basically saying to seize the moment and appreciate what you have. Enjoy life while you're here because what else are you here for? You might as well get the best of it because you never know what can happen. We all experienced what we never thought we would last year. So conquer those goals, take the trip, tell that person you love them, stand up against injustice, order the lobster…all that. Get lost in living, but focus.

How do you cope and balance your daily life with schedules, work and tours?

Google calendar lol! Just staying organized, working my ass off and taking time to unplug. If you don't recharge your battery, you won't be able to operate at full capacity when it comes time to work hard.
Learn more about Kelsey Warren