The Algorithm track list by Snoop Dogg is officially out . Stars align to Snoop Dogg's upcoming album The Algorithm.The hip-hop icon has announced the tracks he'll be playing on this Def Jam debut.
The album features 25 tracks that showcase the talents of Def Jam which includes Fabolous, Jadakiss, Dave East along with YK Osiris.
The supergroup of Snoop Dogg's Mount Westmore, including Ice Cube E-40 as well as Too $hort, join forces for the lead track "Big Subwoofer."
Redman and Method Man reunite on "Alright," while Uncle Snoop taps Usher and Eric Bellinger for "New Oldie."The Def Jam's latest signing, Benny the Butcher has a collaboration with Jadakiss as well as Busta Rhymes for "Murder Music" as Mary J. Blige adds some shine in "Diamond Life" along with DJ Cassidy.
"There's plenty of talent on this album and so many different kinds of music that it defies the algorithm," Snoop said. Snoop who is the Def Jam's Executive Creative and Strategic Consultant.
"Right now the algorithm is telling us that you must sound this way, you must sound like this however they're not telling us how you should feel. My algorithm will provide you with a feeling, not an audio."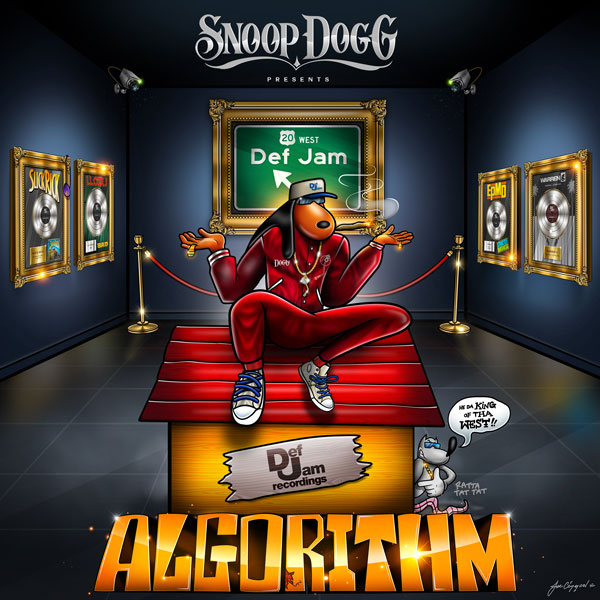 The Algorithm is out on Friday. Check out the track list below.
THE ALGORITHM TRACK LIST
1. Snoop Dogg – "Intro"

2. Redman & Method Man – "Alright" (feat. Nefertitt Avani)

3. Snoop Dogg – "No Bammer Weed"

4. Eric Bellinger, Snoop Dogg & Usher – "New Oldie"

5. Fabolous & Dave East – "Make Some Money" (feat. Snoop Dogg)

6. Malaya – "Anxiety"

7. Jane Handcock – "Like My Weed"

8. YK Osiris – "Applying Pressure" (feat. Snoop Dogg)

9. Blxst & Snoop Dogg – "Go To War"

10. October London – "I Want You"

11. August 08 – "Gyu" (feat. Ty Dolla $ign & Bino Rideaux)

12. Malaya – "Inspiration"

13. Mount Westmore (Snoop Dogg, Ice Cube, E-40 & Too Short) – "Big Subwoofer"

14. Snoop Dogg, Benny The Butcher, Jadakiss & Busta Rhymes – "Murder Music"

15. Heydeon – "Been Thru"

16. Snoop Dogg – "Qualified" (feat. Larry June & October London)

17. Choc – "Everybody Dies"

18. Jane Handcock – "By & By"

19. Snoop Dogg & DJ Cassidy – "Diamond Life" (feat. Mary J. Blige)

20. Jane Handcock – "Whatever You On"

21. Nefertitti Avani – "Make It Last"

22. Snoop Dogg – "No Smut On My Name" (feat. Battle Loco & Kokane)

23. Snoop Dogg – "Get My Money" (feat. Prohoezak)

24. Camino – "Steady" (feat. D Smoke & Wiz Khalifa)

25. Snoop Dogg – "Outro"