"Masks" is a haunting single from Gabrielle Metz, a rising singer-songwriter that refuses to be tied to one genre. This song is an indie singer-songwriter gem that relies heavily on echoing vocals and cinematic production details to elevate the emotional lyrics. Metz is skilled at writing catchy hooks and hypnotic choruses that dive into the deep subject matter of trusting someone with what hides behind the mask you wear every day. Click here to view the lyric video.
This lyric video for "Masks" does a stellar job of conveying both the song's lyrics and its overall message to the viewer; it leaves you contemplating the relationships in your life and how you present yourself to others. It opens with a lone stool settled in a green grove; Metz walks into frame and sits down as the track begins. She sings along with it, looking away from the camera and back during the chorus to transition from jewel decorations surrounding her eyes to a bright red and white masquerade mask. The next verse brings a transition to black bedazzlement around Metz' eyes. A brief instrumental solo is represented with Metz, now standing, riffing on an elegant cream colored electric guitar fashioned like an acoustic.
Metz finally takes off her mask and all facial adornment for the song's ending, perfectly displaying the track's themes. The simple action of Metz singing to the camera, staring deep into your soul, lets the song's true meaning sink in. It is the ideal accompaniment to such a powerful track.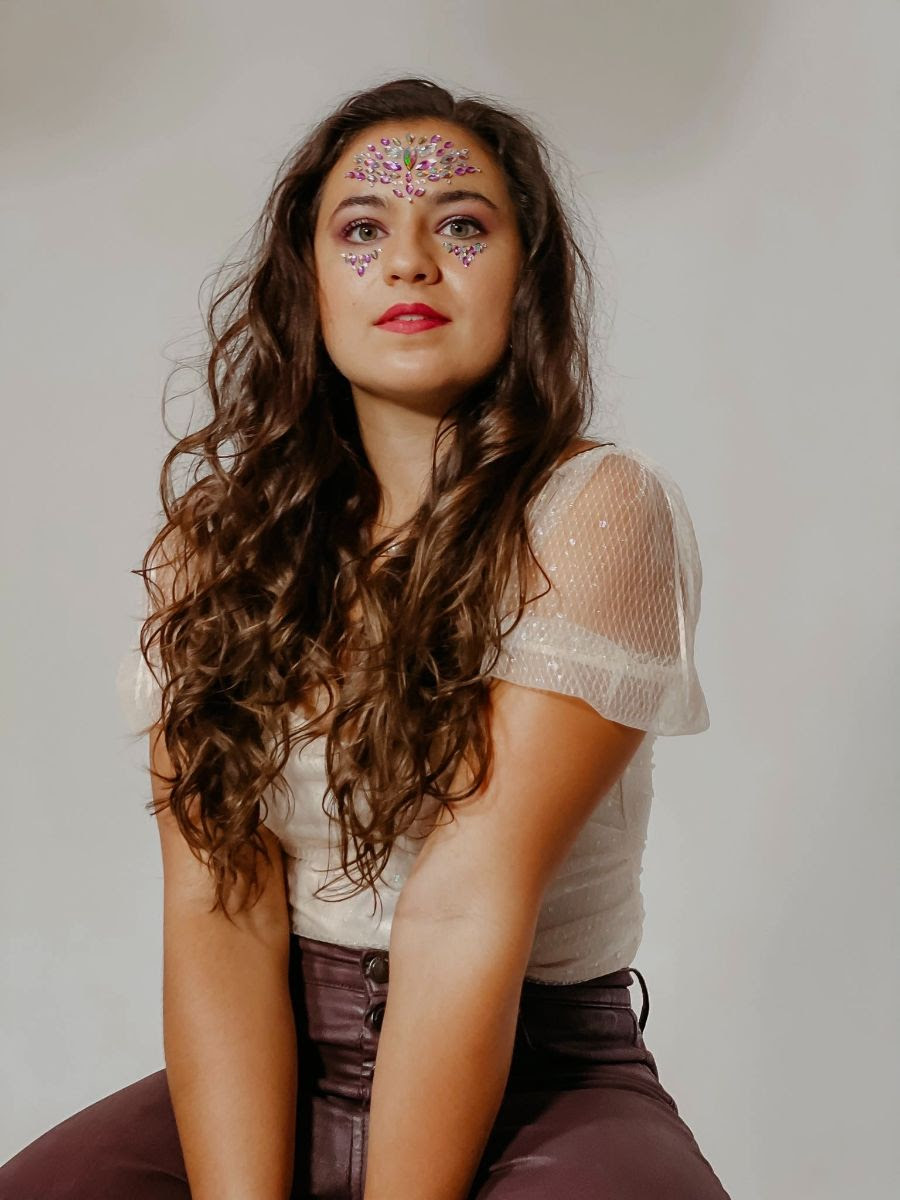 Gabrielle Metz is a name that is climbing in the country music scene. Born in Fort Payne, Alabama, home to the Country Music Group, Alabama. The charming 21 year old grew up in the small, southern city of Gadsden, Alabama. "Sweet Home Alabama" embodies this 'girl next door' perfectly.

In 2017, before her senior year of school, Gabrielle told her parents that she wanted to move to Nashville to pursue music. Gabrielle finished high school online and moved to Nashville in February 2018. She fearlessly dove head-first into the industry. She soon found herself in co-writes all along Music Row, playing stages throughout Nashville, and making new friends. 

Gabrielle released her debut single, "Checkered Flag," in January of 2020 which was featured on Women of Country's Top 10. Metz penned this song about chasing her dreams in 'Music City.' Metz has released 6 more original songs since then, "Cajun Words," "Hear My Heart," "Thin Ice," "Christmas With You," "Hey Cupid," and "Forgot To Fall In Love."

Gabrielle's hard work and determination proves to be paying off. She has accrued many accolades since moving to Nashville: "Hear My Heart" was named to EJAZZ Radio's top 20. "Thin Ice" was named to Ignition Radio's Top 20. Her first Christmas track titled 'Christmas With You' was nominated for Social Stars Best Christmas Song. Gabrielle has been nominated for Alabama Music Awards Best Female Country Artist in 2018, 2019, 2020 and 2021. She was also nominated for Alabama Music Awards Best New Artist in 2018 and 2019, as well as being named to Country Sway's 2021 Artist to Watch. She regularly performs at some of Nashville's staple venues such as The Listening Room, Live Oak Nashville, Tin Roof, The Row Pub and Kitchen, Cabana Taps, and Alley Taps.