In the world of music, there are artists who not only captivate us with their talent but also take us on a cultural journey through their art. Kash Kaaria, a Kenyan Afro-Pop artist, is one such musician who draws inspiration from her Swahili African roots to create a vibrant and eclectic sound. With the recent release of her single 'Si Unipende' (translated as 'Why Don't You Love Me' in Swahili), Kash Kaaria has once again showcased her ability to seamlessly blend classical and futuristic elements, resulting in a unique and captivating musical experience.
Born and raised in Kenya and now residing in London, Kash Kaaria has been influenced by the vibrant music scene of her homeland while also embracing the cultural diversity of her current environment. Her music reflects a harmonious fusion of African rhythms, Swahili melodies, and electronic beats. Kash Kaaria's aim is to celebrate her heritage and share it with the world through a contemporary lens.
With 'Si Unipende,' Kash Kaaria introduces listeners to a lively and energetic track that beautifully encapsulates her unique style. The song combines Afro-Electronic elements with soulful vocals, intertwining English and Swahili lyrics to create a rich and dynamic musical tapestry. Despite its upbeat nature, 'Si Unipende' delves into the emotional realm of unrequited love, juxtaposing the infectious rhythm with heartfelt storytelling.
Kash Kaaria's artistry shines through in her vibrant sound and her ability to seamlessly blend traditional and contemporary influences. Through her music, she takes us on a journey that transcends borders and connects people through shared experiences. With 'Si Unipende' serving as a testament to her talent and vision, Kash Kaaria's future in the music industry looks incredibly promising. The interview offers a glimpse into her musical world, capturing the essence of her creativity and the cultural significance that underlies her work.
In an exclusive interview, we had the privilege of speaking with Kash Kaaria about her musical journey, influences, and her latest release, 'Si Unipende.' The conversation delves into the essence of her sound, her creative process, and the significance of her Swahili heritage in shaping her musical identity.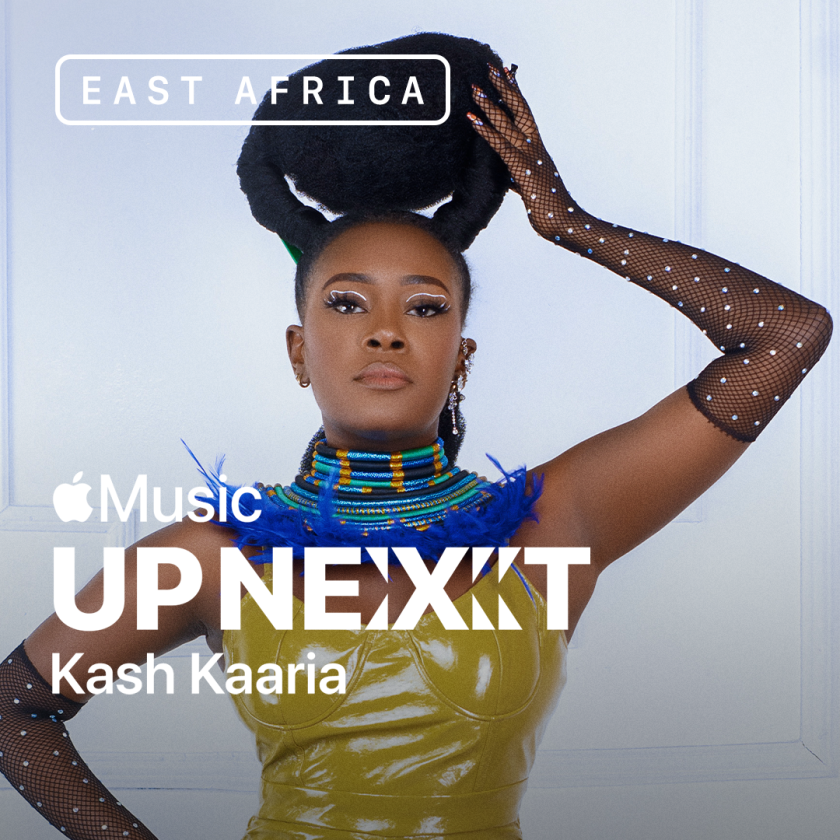 Welcome, Kash Kaaria! We're excited to have you here to talk about your  vibrant new single, 'Si Unipende,' and your upcoming debut album, 'Acme.'  Let's start by discussing your musical style. You're known for drawing inspiration from your Swahili African roots and blending them with electronic  beats. Can you tell us more about how you developed this eclectic sound? 
I have been fortunate to have a diverse exposure to different genres growing up and with this I was able to fuse the genre that was appealing and true to me through experimentation and incorporating rhythmic patterns from genres like electronic pop and soft rock. I have worked with different producers as well in order to create unique musical perspectives to bridge the gap of my Swahili roots and my artistic way of writing music.
'Si Unipende' showcases your fusion of Afro-electronic elements and soulful vocals, blending English and Swahili lyrics. How did you approach the songwriting process for this track, and what were the main themes you wanted to explore? 
 I usually write from experiences I have gone through or seen so writing Si Unipende came from different perspectives of how as a generation today, many complain about unrequited love. So the main themes were emotions of validation, frustration, and the desire for affection but we wanted the song to have an up-tempo beat to kind of juxtapose the sad theme. We wanted to explore the feeling of optimism despite the underlying emotional struggle.
Your single features Ndovu Kuu, a prominent Kenyan artist, whose verse perfectly complements your style. How did this collaboration come about,  and what was it like working together on 'Si Unipende'? 
Ndovu Kuu is a friend and once I finished writing my verses and chorus I felt like he was the right person to feature in the track because I am also a fan of his storytelling and I admire his artistry.My team sent his team the demo and he immediately loved the theme so we planned a studio session and the rest is history.
It's great to see how you've infused emotional depth into an infectious Afro-pop single. Now, let's talk about your upcoming debut album, 'Acme.' You've described it as a dynamic and innovative fusion of genres. Can you give us a  glimpse into what we can expect from the album and how it showcases your versatility and musical talent?
Acme as the name suggests is about achieving your greatest potential and as humans we seek to evolve into the highest versions of ourselves. In the album, I talk about my journey of self-discovery, heartbreak, and growing from past mistakes.I also have a lot of affirmations that helped me keep pushing during my dark times and I hope it resonates with anyone on a journey of self-improvement and healing.
Sonically, Acme promises infectious singalong anthems to get you dancing and listeners will be able to tell how I have evolved in my sound and vocal range improvement. I explore deep emotions in this piece as I usually aim to push my creative boundaries.
You were born and raised in Kenya but now reside in London. How has this cross-cultural experience influenced your music and shaped your artistic identity? 
I am now exposed to so many different cultures and for me I have taken this as a way to get fresh influences because I will now be able to draw from diverse experiences and create music that reflects this new path. I have made some Nigerian friends and already know some slang that will be incorporated into my future music just for the purpose of cultural exploration. My Swahili background will forever be a part of my music because that will be my true Identity however I am not limiting my ability to step out of my comfort zone and embrace experimenting with new sounds like London Drill or RNB.
Your music combines classical and futuristic elements, creating a unique blend. How do you navigate between these two worlds and bring them together in your sound? 
I always seek to connect with diverse audiences and blending different genres allows me to attract different crowds of audiences.I have been lucky to have a good ear in terms of the sounds I let my producer incorporate so working with a producer who understands your needs also helps in navigating genres, I can't take all the credit here.Haha.
We're definitely looking forward to experiencing the diverse soundscape of  'Acme'! Before we wrap up, could you tell us about any upcoming projects or performances you have planned to promote your new single and album?
I will be having some radio interviews with exclusive listening.I am currently about to release Acme Volume 1 this July 21st so for promotion we are doing press and radio tours to promote it. As for Si Unipende, our tiktok challenge is up and we are seeing it have an impact on the streams already.