We had the privilege of interviewing Jutt Huffman, a rising country singer with a passion for storytelling and a rebellious spirit. In this exclusive interview, Jutt takes us on a journey through his musical influences, his personal connection to country music, and the memorable moments that have shaped his career. With his unique blend of traditional country roots and modern elements, Jutt brings a fresh and uplifting energy to the genre. From heartbreak to triumph, his songs resonate with audiences, capturing the essence of real-life experiences. Join us as we delve into the world of Jutt Huffman, a true country artist on the rise.
In this interview, Jutt opens up about his discovery of country music, tracing it back to his childhood and the influence of iconic artists such as Garth Brooks and Shania Twain. However, it was a heartbreak that truly solidified his connection with country music, leading him to move to Nashville and pursue a career as a singer-songwriter. Jutt shares how the power of storytelling in country music has played a significant role in his own songwriting process, allowing him to convey real and relatable emotions through his music.
The conversation takes a deeper dive into the themes that country music often explores—love, heartbreak, and life experiences. Jutt shares his personal philosophy of embracing positivity and using his songs to uplift and inspire others. He believes in celebrating the best times and things that make people feel alive, while still acknowledging the ups and downs of life.
As the interview unfolds, Jutt shares some memorable moments from his journey as a country singer, including an early career opportunity opening for The Band Perry and Keb' Mo'. These moments have had a significant impact on his career, reaffirming his passion and dedication to his craft.
it is evident that Jutt Huffman, is an artist who is deeply connected to the heart and soul of country music. With his raw talent, powerful storytelling, and unwavering authenticity, Jutt Huffman is poised to make a lasting impact on the country music scene. So, be sure to keep an eye out for his upcoming releases and catch one of his high-energy live shows. This rising star is ready to take the country music world by storm. Check out the interview below.
How did you first discover your passion for country music, and what made you decide to pursue a career as a country singer?
As a kid I would sing Garth Brooks and Shania Twain with my mom in the van but eventually wandered off towards rock and roll. Right before I moved to Nashville in 2011 I had my heart broken and that is when country music really sunk in. The two Zac Brown Band albums and Top 40 Country really got me through it. After moving to Music City to pursue songwriting even further I discovered 650 WSM radio and started diving into Classic Country. I started playing downtown right away and realized I wasn't only a songwriter and guitarist but I could fare pretty well singing and being a frontman as well. I enjoyed performing so much that within a year I kicked the day job and began performing full-time!
Can you describe the storytelling aspect of country music and how it influences your songwriting process?
Storytelling is at the heart of country music. It's in all of today's country music and goes all the way back to Jimmie Rodgers in the 1920's singing about going to jail, picking peaches, and the hardships of life that many of us have gone through. There is something about telling a story that makes a song real and relatable. In my most recent songs, I write about this crazy journey of freedom. I've been ramblin', drinking, and singing my heart out with a whole lot of love and sharing it with as many people as I can! Without the storytelling in country music I would not be the writer that I am today and honestly I don't know where I'd be or what I'd be doing.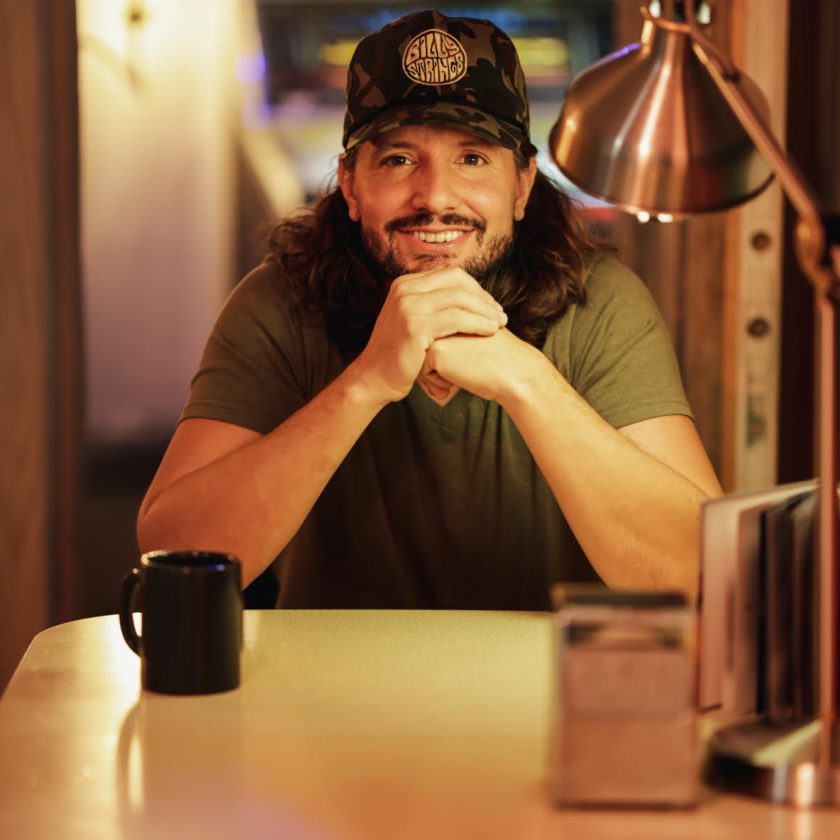 Who are your biggest musical influences in the country genre, and how have they shaped your own sound and style?
That's a tough question because there are so many influences of mine in country music. I think Zac Brown's Band really lifts my spirit and has touched my soul. They were the first band that showed me how reggae can be mixed into a good country song. They also showed that you can be a lot more than just 3 chords and the truth to be accepted by the masses. And their power harmonies speak to everyone even if you're not into country music. Also, The Rolling Stones are really up my alley with just the simplicity and rawness of how they do country music. They don't need a big production, but just big energy and talent which is what i give at my shows.

Recently I've been inspired by Morgan Wallen with his rhythmic sway and lyrical attack. Also I love Niko Moons big contagious life-loving energy. John Osbourne's huge guitar tone is something that every Nashville picker is trying to find and has helped me be a better guitar player.I guess to answer your question my musical influences are always evolving and shaping my
sound. I don't think I sound like anyone except for me.
When asked about his musical influences, Jutt's response reflects his diverse taste and eclectic style. While artists like Zac Brown Band and The Rolling Stones have shaped his sound and approach, he acknowledges that his musical influences are constantly evolving, and he strives to maintain his unique identity as an artist.
The conversation takes a deeper dive into the themes that country music often explores—love, heartbreak, and life experiences. Jutt shares his personal philosophy of embracing positivity and using his songs to uplift and inspire others. He believes in celebrating the best times and things that make people feel alive, while still acknowledging the ups and downs of life.
Country music often touches on themes of love, heartbreak, and life experiences. How do you personally connect with and convey these emotions in your songs?
Well I feel like I have experienced more than the average person my age. I grew up in a small town, lived in big cities, suburbs, hoods, 3 different states, traveled all over the country and world performing, mingling and overcoming all of the obstacles this world has thrown at me. I have always been the guy that makes the best of situations and blocks out the negative energy. I have found that people that speak negatively and think negatively create negative atmospheres around them. Growing up in poverty there seems to be a lot more bad things around.
So, I have spent my adult life getting away from that and bringing people up who want to do the work and grow old happily. I could release a bunch of songs I've written about heartbreak and down times but I would rather be a positive force in the world and bring people up! I like writing about the best times and things that make people feel alive and motivated. I believe in "work hard play hard". My songs portray the love, heartbreak and experiences that I've gone through but keep a positive uplifting vibe to let everyone know that no matter how low you get you gotta come back up!
In your opinion, what sets country music apart from other genres, and what do you believe makes it so relatable to audiences?
Country music is set apart from other genres because it has a strong Christian faith foundation, it is real and relatable to the average American, it doesn't judge, and it welcomes all to the family. Country music is relatable because it talks about real life, the ups and the downs, and it has the energy to sit right there with you and go through whatever it is you're going through and let you know that it's ok to feel how you're feeling and plenty of other people, even the stars in the spotlight, go through exactly the same thing.
How do you approach finding the right balance between staying true to traditional country music and incorporating modern elements to keep your sound fresh and relevant?
Actually, I've been battling being a country artist for years because rock n roll naturally comes out in all I do. My dad is a free spirited long-haired rebel who raised me and my brother so I have rock n roll in my blood. I realized that my core values embody the roots of country music so I decided to apply my rebellious wild side into the mix of what we call country music today.I'm trying to not incorporate too much of the modern elements like all of the synth and programmed beats that you hear in almost everything nowadays. I'm producing my music with an honest real instrument mix that I can replicate at a live show full of Stratocaster guitar, P- bass, pedal steel, bouzouki, banjo, mandolin, real drums, and raw vocals!
Can you share any memorable moments or stories from your journey as a country singer that has had a significant impact on your career?
There have been many special "moments" in my career so far. The first time I was involved with opening up for anyone mainstream is a cool memory. When I first got to town (Nashville) I started hanging out and gigging at "National Underground" now called "Nashville Underground". It was a very tiny dive bar at the end of Lower Broadway but now is the tallest bar on Lower Broadway and even has a bowling alley in the basement. The owner, Joey Degraw, hung out for my sets often and asked me to play bass for him opening up for The Band Perry and Keb' Mo! I didn't really play bass but I said yes and did my best to learn the songs like the record.
It rained most of the gig so there wasn't as many people as I was expecting, but my family came down and my sisters got to experience backstage and they really enjoyed it. This crossroad was within my first or second year of living in Nashville and it gave me the confidence to know that I was on the right path and doing what I'm supposed to do. Many more cool things have happened since then but I'll save that for another time.
Country music has a strong connection to the community and often reflects the values and experiences of rural life. How do you maintain that connection and engage with your fans on a personal level?
The hardest part about living in Nashville is living a city lifestyle. I get on the road as often as I can to gig and get away from it. "Big City" by Merle Haggard sums it up. In the summers I roam around up north and visit family in Ohio. We do a lot of wood chopping, hay bailing, and enjoy any quality downtime that fits around my crazy gig schedule. In the winter time I spend my time in South Florida and do beach gigs all over the place.

I think the easiest way to engage with fans is to be myself. On stage I've learned to have a slight filter and be a little more careful of what comes out of my mouth, but when I'm meeting someone for the first time I just treat them and speak to them like they are part of my family.One of the biggest things I've been working on is engaging with fans online. I was raised without internet or cell phones and enjoy the lifestyle of being off the grid so doing all of the online interacting is a bit foreign to me but I'm doing my best to keep up with it.
Collaboration is a common element in country music, with many artists teaming up for duets or special projects. Is there anyone in particular you would love to collaborate with, and why?
I would love to collaborate with Willie Nelson! I have a song called "Keep Drinking" that I will be releasing later this year and at the end of the song I reference Willie and the whole song changes to "Keep Smoking". It would be an absolute dream to have Mr. Nelson sing on it! Eric Church, Zac Brown and John Osbourne are a couple other mainstream artists I would love to collaborate with. They are all rebels and have soul in the way they play and sing that matches up to what I do.

Rick Reuben is a bucket list producer to work with for obvious reasons. But for years I've been wanting to collaborate with Grady Saxman who is a great drummer, studio owner, and an up-and-coming record producer. The record "Whitsitt Chapel" by Jelly Roll was recently recorded at his place, "Saxman Studios". After years of writing songs and getting it down to about 20 songs I chose to work with Grady for a single, "Today We Drink" which is available now.
The process of recording with him went so well that I decided to do a whole record there! We just got done recording all 13 songs and will be releasing singles from it all year round! The current single, "That Feeling (Freedom)" just dropped June 30th! It is a song about paying your dues and having faith that everything you're doing to capture your dreams will pay off. It is also about knowing that it wouldn't be possible without all of those that sacrificed their lives so we can live the American Dream! I wrote it with my buddy Matt Marinchick and produced it myself at Saxman Studios with Grady playing drums and Nathan Keeterle playing some mean guitar with a stratocaster I built from the wood of an old church in Nashville. Give it a listen and let me know what you think online!
What advice would you give to aspiring country singers who are just starting out and hoping to make their mark in the industry?
"Pray daily, write and gig as often as you can, network, trust your dream, ride the wave, stick to your roots, don't be afraid of the work, pay your dues, be patient, listen to the classics and keep up with the new stuff!" Thank you for taking the time to learn a little bit about me. Come check out a show sometime!