Having successfully released her new pop single 'Temporary American singer and songwriter Gem Chantelle, has returned to give us a pertinent insight about her latest release, her personality and her music career.Her latest single 'Temporary' which was produced by Jamie combines ethereal melodies to convey its story.Gem Chantelle is certainly on the right path to getting 1 million monthly listeners and 'Temporary' completely confirms this
Sharing her thoughts on the vivid new single, Gem Chantelle explains, "I wrote Temporary about the constant changes that we're faced with as we grow. Relationships come and go, along with friendships and everything else. I've always struggled with the idea that nothing is permanent, but now I understand that change can offer so many possibilities if you embrace it."


Gem's discography has been streamed over 700,000 times on Spotify alone.A powerful songwriter that's been through tough times over the years, Gem has always turned to music as a guiding light. After graduating high school, Gem went to Denver, Colorado for a songwriter's expo – an experience that helped inspire many songs to come. "Covid happened in the middle of my first year out of High School, which put a halt to all things performing and recording. I learned to adjust to all the sudden drastic changes, and ultimately that's how the idea for "Temporary" came," Gem Chantelle explains.. Check out the interview below.
You participated in a songwriting expo in Denver, Colorado before now. How was the experience like and how would you describe the impact of this expo in your music career?
Durango was a really cool experience. I had never been in the same place as so many creatives before. I got to perform my song "First Place", and connected with a sync company who eventually got my song "Lonelier" a feature in MTV's show, "Ghosted." I also met a guy there that I ended up dating for a year. I got some good music out of that relationship, so it had a big impact on my career and my life.
Is obvious that your voice was top-notch in your new single 'Temporary'. Do you engage yourself in vocal training?
Thank you! I first started out with classical training at the age of 11. I continued with that for around 5 years before I made the switch to pop. Even though the musical styles are different, the classical training still applies, because it allows me to keep my voice healthy. I haven't taken many voice lessons since covid, but It's something that I think benefits every singer.
How would you describe the effect of covid-19 in your life and career in general. Would you say the lockdown helped you in writing, recording and releasing your single "Temporary"?
The idea for "Temporary" had been brewing for a while, but I think lock down forced me to sit down and write it. The dynamic of my life changed a lot since covid, because I wasn't able to be out networking in the city. I was also taking a gap year to work on music and perform full time, but I wasn't really able to get that experience. I did write a lot of music though, and I think the down time and all of the uncertainty contributed to that.
New York, is home to many big names in the music industry. Who amongst these artistes residing in your city do you wish to collaborate with if given the opportunity?

I'm a big Cardi B fan, and she's from the Bronx. I'd love to collab with her if I ever get the chance. Another one is a rapper named "Marcaux" who's also up and coming, but I think we'd make something cool if we collabed.

Your discography has been streamed over 700,000 times on Spotify alone. Do you think that you are getting the desired attentions needed?
I think we're off to a good start, but I really want to make this my full time thing, so I need to keep building the momentum. I'm having fun with it though, and enjoying the process. One of my immediate goals will be coming to fruition this upcoming fall, when I release my debut EP. Another goal of mine is to tour. I think that would be such a fun experience, even if we start out small. Another goal is to get to 1million listeners on Spotify. I think it can happen as long as I stay persistent.
What's the inspiration behind 'Temporary'?
I've always struggled with the idea of good things coming to an end. I know it leaves room for new adventure, but when I really care, I have a hard time letting go. One day I was looking down at my permanent tattoo, and thought "at least that's one thing that's staying." I thought that was a cool concept so I started writing.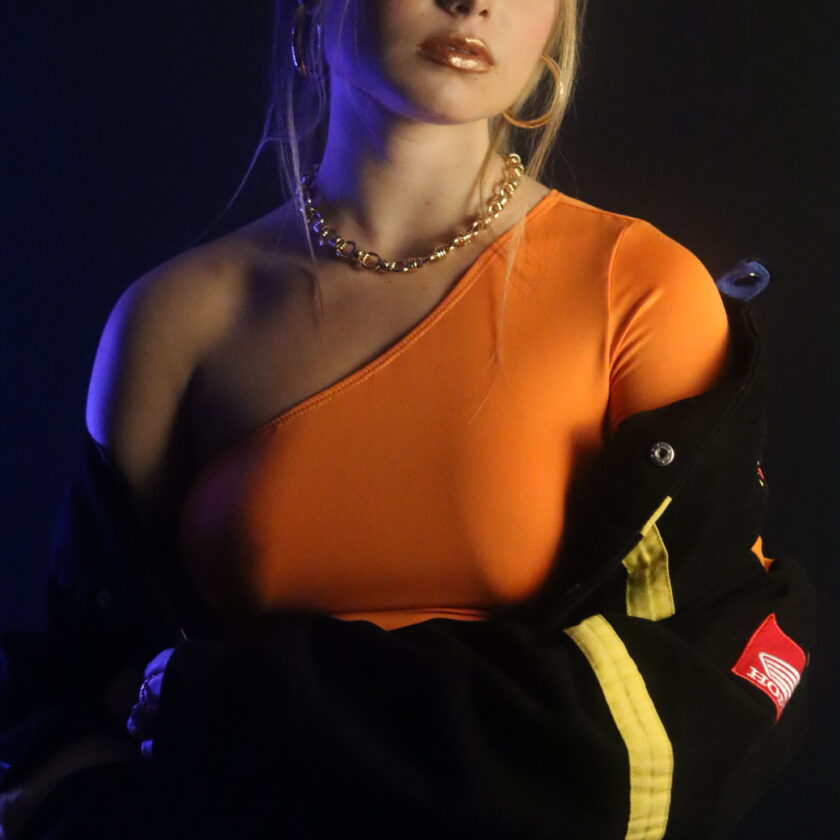 What's that general impression that people have about you that is not true?

People have always thought that I'm a really serious person and that's so false! I don't take myself seriously at all to the point where I sometimes get in my own way. I love to have a good time. I think I'm a lot of fun!
If given the opportunity to change anything in the music industry what are the two major things that you will be considering first according to your order of priority?

This may be an unpopular opinion, but I hate how content driven the industry is. I think the music should be the focal point, not what someone's feed looks like, how many times they post a week. I also feel like social media has caused people's attention spans to shrink, so lots of music doesn't get the attention it deserves. I don't think there's any changing this, because we live in a world where social media does matter for artists, but it can get really exhausting.
As a New York born and bred artiste how would you explain the effect that your environment had on you growing up as a kid?
I think growing up in New York exposed me to all sorts of people, and ways of thinking which has really benefited me as an artist. Having that worldly perspective is what drives me to take creative risks, and collab with people to see what we can create. Not to mention all the concerts and events that are always happening. I think it's the best place to be as an artist, and I'm becoming more and more grateful for that as I get older.