We had the pleasure of interviewing the multi-talented Nigerian singer, performer, and songwriter, Ukenny, to discuss his musical journey and his latest party anthem, "Rubbish Song." Contrary to its deceiving name, this Afrobeat hit is a perfect blend of infectious rhythms and captivating melodies that will keep music lovers and dancers on their feet. Created from a collection of random thoughts and words, Ukenny's creativity shines through as he weaves a summer smash hit that showcases his versatility. With world-class production by Generallouis and a visually stunning music video filmed in Lagos, "Rubbish Song" is a quintessential listen for any Afrobeat fan.
Hailing from the culturally rich region of South Nigeria, Ukenny has emerged as a force to be reckoned with in the music industry. Growing up in the musically vibrant suburbs of Lagos, his passion for music was nurtured from an early age. Despite pursuing an academic pathway in History & International Relations, Ukenny's love for music remained unwavering. He continued to hone his skills and even secured a degree in Diplomacy & International Relations during his time in the UK.
In 2013, Ukenny made the decision to turn his passion into a profession, embarking on a journey to curate his craft as an artist. Over the years, he has written and recorded an array of songs, captivating the hearts of his dedicated listeners. Ukenny's name, a combination of his last name Udoh and English name Kenneth, represents the fusion of his Nigerian heritage and his international influence.
One of Ukenny's most significant milestones to date was his breathtaking performance at London's renowned O2 arena in October 2021. Collaborating with acclaimed artists like Zlatan, Generallouis, Philkeyz, Spyritmix, and Speroache beatz, Ukenny has consistently pushed the boundaries of his creativity, expanding his musical horizons and captivating a broad audience.
Ukenny's musical journey is a testament to his dedication and passion for his craft. With his hit single "Rubbish Song" taking the Afrobeat scene by storm, he proves his ability to captivate audiences with infectious rhythms and catchy hooks. As he continues to explore his musical versatility and collaborate with industry greats, Ukenny's talent and potential are limitless. Stay tuned for more electrifying releases and performances from this rising star.
As our interview unfolds, we will delve deeper into Ukenny's musical journey, exploring the inspiration behind his music, his collaborations, and his aspirations for the future. Join us as we uncover the essence of Ukenny, an artist whose talent knows no bounds and whose potential is immeasurable.
Congratulations on the release of your latest single, "Rubbish Song"! Can you tell us more about the inspiration behind the song and how it came together?
First of all, thank you for granting me this interview. Rubbish Song was inspired by the art or creativity and love for music also being innovative and applying reverse psychology with the song title. I applied my little knowledge from my literature days in school as I applied Pun, Onomatopoeia, repetition and poetic license in creating this piece. The song came into existence with random words coming up in my head and I penned them down the song only has a hook and the remaining are catchphrases which is easy for music lovers to vibe to and sing along.
The production quality of "Rubbish Song" is exceptional, with a dense sonic soundscape created by Generallouis aka Paranormal. Can you share your experience working with him and how it contributed to the overall vibe of the song?
Generallouis is one of the most underrated producers I have worked with. This guy is a genius. Give him a stage and he will deliver 100%. I sent him the Rubbish Song and he was like LoL "Bro what is this" with a smile 😊 I said to him create a magic with it let's have some fun 🤩. The remaining is now history. He made me one of my greatest release till date. All I said to him is create a happy vibe beat on the Rubbish and he delivered. Still amaze me till date and this is different from all my songs
The music video for "Rubbish Song" was filmed in Lagos and showcases the vibrant energy of the city. How important was it for you to capture the essence of Lagos in the visual representation of the song?
Lagos is the Capital city of Afrobeat. It was very important for me to have the major part of the video shot there as Lagos played a great part in shaping who I am today. The bustling and hustling of that city is crazy with great energy vibes. First Son the video Director understands the task that was awarded to him and he took it to the street and typical Lagosian came out to participate and had fun in the process. The Adults and kids were fully involved and the dancers (Reflex Dancers) you can see the energy and focus on their face as they understand what they were there to interpret. They gave it all and I can't thank them enough.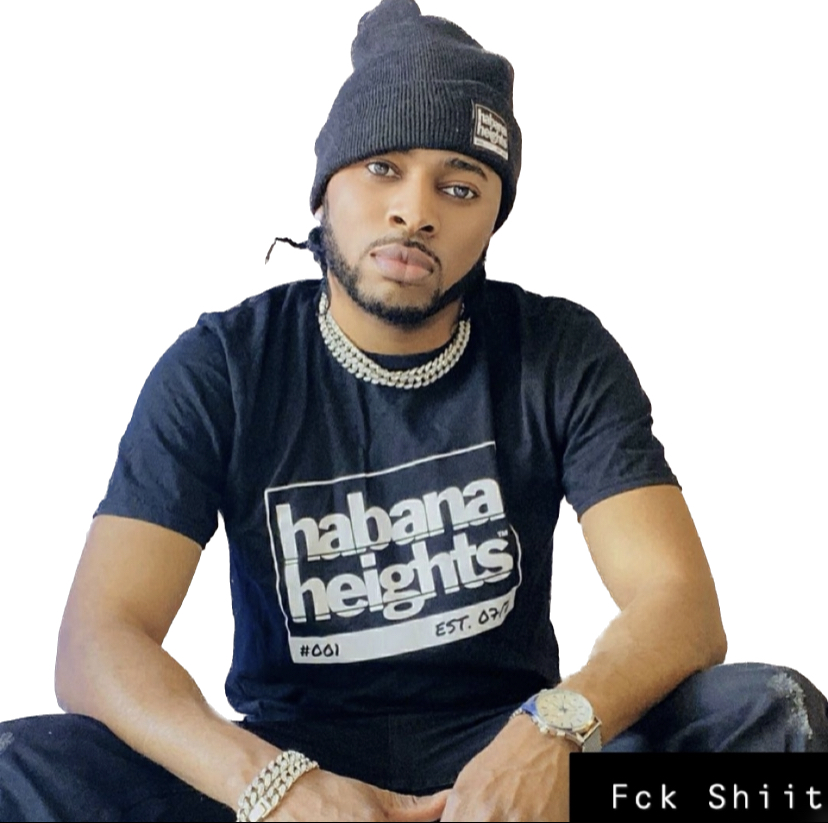 As a musician hailing from Southern Nigeria, how has your cultural background influenced your musical style and artistic expression?
My Background although from south south of Nigeria. I was born and brought up in Lagos and that city defines me more than where I originally hail from. People never suggest I'm from the south south of Nigeria. I applied my mother tongue into my music as one can hear in the song "Enoh mi eyetie bor" I combine my style and expression in my music by chipping in my cultural heritage so people have a clue or idea of where I originated from.
You have pursued both academic studies in International Relations and a career in music. How do these two aspects of your life intersect, and how have they influenced each other?
As a graduate of International Relations, I used my knowledge of learning about nation-states' interactions and their beliefs and culture so I can incorporate trends among them into my music by collaborating with some Artists from different countries and cultures. My music is for the Global Village. I mean music is a universal language when it comes to the beat and rhythm any living soul that understands how therapeutic music is will do nothing but enjoy every piece and sound of it to the fullest.
Reflecting on your career, what have been some of the most memorable moments or milestones that have shaped your musical path?
Working with these great successful music professionals has made me believe that hard work does pay off in the long run. The professionalism they inject into their craft is top-class. Sometimes you need to record a particular song more than once to get the desired result and sound you really want. Working with them has been an eye-opener for me. And I can't wait to release the tracks they did for me in the future.
You have collaborated with notable artists such as Zlatan, Generallouis, Philkeyz, Spyritmix, and Speroache beatz. How have these collaborations shaped your musical journey and contributed to your growth as an artist?
Working with great professionals, and management and listening to the advice they gave has really done me well. Traveling to Lagos from England to work with Zlatan then went on to shoot one of my yet-to-be-released projects ''Ijo'' in Olumo Rock Abeokuta state.  Also, my performance at the O2 in London. All these have molded me and shaped me well for the task ahead and I can't wait to play regular stage gigs and engage with my fans because there is more to come. Expect great-quality sounds from Ukenny soon.
Your versatility as a musician and songwriter is evident in your ability to adapt to different musical ventures. How do you approach the process of exploring diverse genres and styles within your music?
I adapt easily to any style and music genre. I was advised to concentrate more on Afrobeat which I totally understand as it is the sound from where I come from. I do R&B, Dancehall, Rap, Gospel music, Amapiano, etc. When writing any of these genres, the flow comes easy and naturally with no stress and with inspiration from life experiences and daily occurrences. Sometimes my inspiration comes from the dream world.
Looking ahead, what can fans expect from Ukenny in terms of upcoming projects or collaborations? Are there any particular goals or aspirations you have for your music career in the near future?
My EP "AMA LUV" will be dropping sometime this year it is a 6-track EP. And it will definitely blow your mind away. This will come as a surprise to many people because of the style I adapted and applied to the tracks. I can't wait for the world to hear it. Also, there will be visuals as well and connecting more with my fans via shows, social media platforms, and appearances. I am going all out for the love of this craft. I will be giving my all. I love this and this is what I want to be remembered for.
Whatever you do, always find time to enjoy, be happy, and de-stress from the stresses of life. Don't let life challenges take away your time or moments of happiness. Life's too short. Live life do not let life live you. Get up, get into your dancing shoes, and Burkina Bae 😂 whilst enjoying the Gbedu.  I want to use my music to preach love, peace, and joy to the world.
Lastly, is there a message or feeling that you hope listeners take away from your music, particularly from the vibrant and feel-good vibes of "Rubbish Song"?
Shout out to everyone that has guided and supported me one way or the other to thread in the right part of my music career. Bishop JD, Rakel, Kitan Kaygold, John Upah, Laddo, Peter Macjob, Pastor Yoma, friends and family. And my spiritual fathers and mothers who have been praying for me. I appreciate you all. Always remember! Na Me Dey Play Men……. Yeah!