In a celebration of love and unity, actress and singer Jennifer Lopez marked the one-year anniversary of her enchanting wedding with Ben Affleck over the weekend. The star-studded couple, often affectionately referred to as "Bennifer" by their adoring fans, exchanged vows on August 20, 2022, in a picturesque ceremony at their estate near Savannah, Georgia. The event was a culmination of their enduring connection and a testament to their whirlwind romance.
To commemorate this significant milestone, J.Lo took to her official Instagram page to share a glimpse into the cherished memories of their wedding day. The post featured a series of heartfelt and radiant snapshots capturing the couple's joyous moments, set against the backdrop of an elegant setting that exuded both intimacy and grandeur.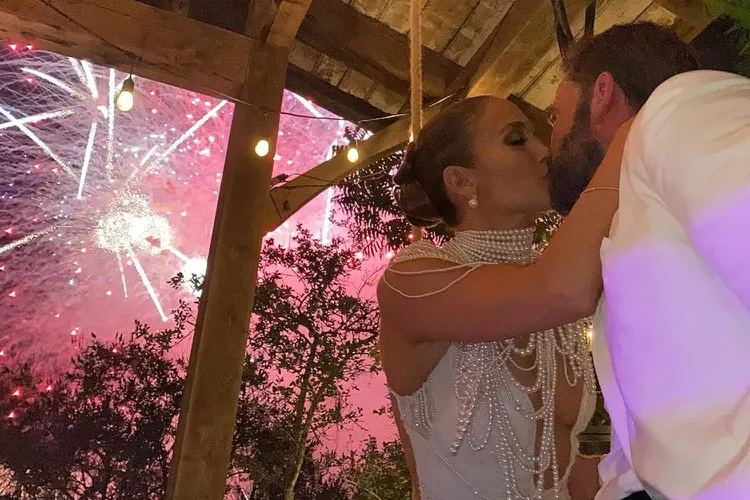 In a touching caption that accompanied the photos, Jennifer Lopez poured her heart out, expressing her emotions and gratitude to her partner, Ben Affleck. She wrote, "One year ago today 🤍 …" Her words, though simple, resonated deeply with fans, offering a glimpse into the depth of her feelings on this special occasion.
The caption continued to paint a poetic picture of her emotions, with J.Lo weaving her thoughts into a rhythm that echoed the melodious nature of her career. She wrote, "Dear Ben, Sitting here alone. Looking at my ring ring. Feeling overwhelmed. It makes me wanna sing sing. How did we end up here. Without a rewind. Oh my. This is my life… Jennifer 🤍"
Jennifer Lopez's words encapsulated the profound connection she shares with Ben Affleck, a relationship that has seen its share of ups and downs over the years but has ultimately blossomed into a beautiful and enduring partnership. Her use of music-inspired phrasing adds an artistic touch to her message, showcasing her prowess as a performer and songwriter.
The couple's journey from their initial romance in the early 2000s to their recent rekindling and subsequent wedding has been closely followed by fans and the media alike. Their love story's resilience and the emotions portrayed in J.Lo's heartfelt message underscore the deep bond they share, making it evident that this second chance at love has been a source of happiness and inspiration for both of them.
As the photographs and caption spread across social media, fans flooded the comments section with congratulatory messages, heart emojis, and well wishes. The outpouring of love from fans around the world serves as a testament to the couple's enduring star power and their status as a true Hollywood power couple.
As Jennifer Lopez and Ben Affleck celebrate their one-year wedding anniversary, they not only reflect on a year filled with love and togetherness but also inspire countless others with their unwavering affection and commitment. Their journey is a reminder that love, when nurtured and cherished, can lead to beautiful new beginnings, even in the glitzy world of show business.
Jennifer Lopez and Ben Affleck Celebrate One Year of Dreamy Matrimony