Music: This House Is Built On Sand By Velvet Two Stripes
This House Is Built On Sand By Velvet Two Stripes – Swiss trio Velvet Two Stripes have been giving us a taste of their upcoming album 'Sugar Honey Iced Tea' all year long. Featuring nine fuzzing and buzzing beasts of songs, an undeniable stand out track from the album is 'This House is Built on Sand'.
A foreboding banjo line leads us into the track, building tension and setting an ominous tone for the bewitching soundscapes that fill the song. A track with many layers musically and lyrically, the track came together like magic in fthe studio and is sure to cast a spell on all that listen.
"It is probably one of our most socially critical songs. It stands for the fragility of our society and shows the shaky foundations on which it is built." Velvet Two Stripes say of the song. "The focus is on a relationship that is doomed to fail, be it between people or between people and nature. One still wants to have the relationship and tries to save it, even in impossible ways. In this way, the song also embodies a certain dystopia. The song seems very serious, honest and thus, to a certain extent, also self-critical."
Some routes lead to dead ends. Velvet Two Stripes (Sophie and Sara Diggelmann and Franca Mock) came to this realization after their liaison with Berlin for the Got Me Good EP in 2017. It didn't lead them where they wanted to go. The three of them aren't trained mannequins planning to sell out their sound based on blues, garage, fuzz and riot grrrl punk at the next best occasion – or sell it all gimmicky to live up to a hype that the band will surely give a damn about.
They learned from their experiences and for better results to just count on only themselves. That's why Velvet Two Stripes released their second album Devil Dance on their own in 2019. There's even no need for any label. All that counts is a full-blown D.I.Y.-attitude. And with exactly that they already have gotten a few steps ahead.
Having already caught the attention of publications such as Rolling Stone, Lock Magazine and Psycedelic Baby, Velvet Two Stripes have also enjoyed continued support from Spotify Playlist such as New Music Friday Switzerland, All New Rock and Rock Rotation.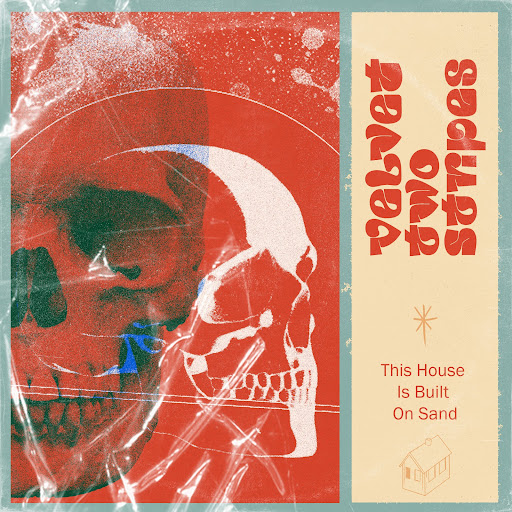 Listen To This House Is Built On Sand By Velvet Two Stripes