Buzzing Nigerian singer, songwriter, and record producer Chukwuka Ekweani, popularly known as CKay, has hit another major milestone on global video-streaming platform YouTube.
The emo-afrobeats singer, whose latest song 'Emiliana' recently debuted on the Billboard top 200 chart at number 190, making it the first Afrobeats song to make the Billboard chart without an official video, is not slowing down as he continues to hit milestones upon milestones.
According to YouTube statistics, the singer is the most watched African artist in the space of twelve months, edging Nigerian heavyweights like Wizkid, Davido, Burna Boy, Yemi Alade, and a host of others.
According to the statistics, the buzzing CKay racked up a total of 1.4 billion YouTube views in the last twelve months.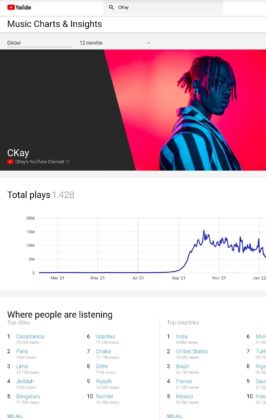 CKay Becomes YouTube's Most Viewed African Artist 
Egyptian singers, Amr Diab (936 million), Mohamed Ramadan (890 million), Hassan Shakosh (856 million), and Tamer Hosny (775 million), follow the Nigerian singer on the list.