Carter Brady Releases His Second Studio Album – Blue Reverb
Carter Brady Releases His Second Studio Album – Blue Reverb. Former NY musician, singer and songwriter, Carter Brady is now gracing the Nashville scene and bringing unique alternative flare to country music city.  A breakthrough indie-rock artist, Carter's new album "Blue Reverb" is one that will take you back to the nostalgic 90's. The album's sound is unique in that it is a crossover between modern-american indie rock and 90s alternative rock. "Blue Reverb" is now available for streaming & download.  
"As many of my close friends and family know, most of my musical influence comes from a long list of rock artists like The Beatles, Foo Fighters, Nirvana, Smashing Pumpkins, Oasis, Green Day, Radiohead, Weezer, Royal Blood, Goo Goo Dolls, Cage the Elephant, Tame Impala, Arctic Monkeys and most recently Soccer Mommy, Snail Mail and Mac DeMarco (I'm sure I'm even missing some). The reason it's so long is because it really is hard for me to pinpoint exactly what I take from each of those artists, however I definitely try to emulate some of their tendencies in my own music as a sort of tribute to them."  – Carter Brady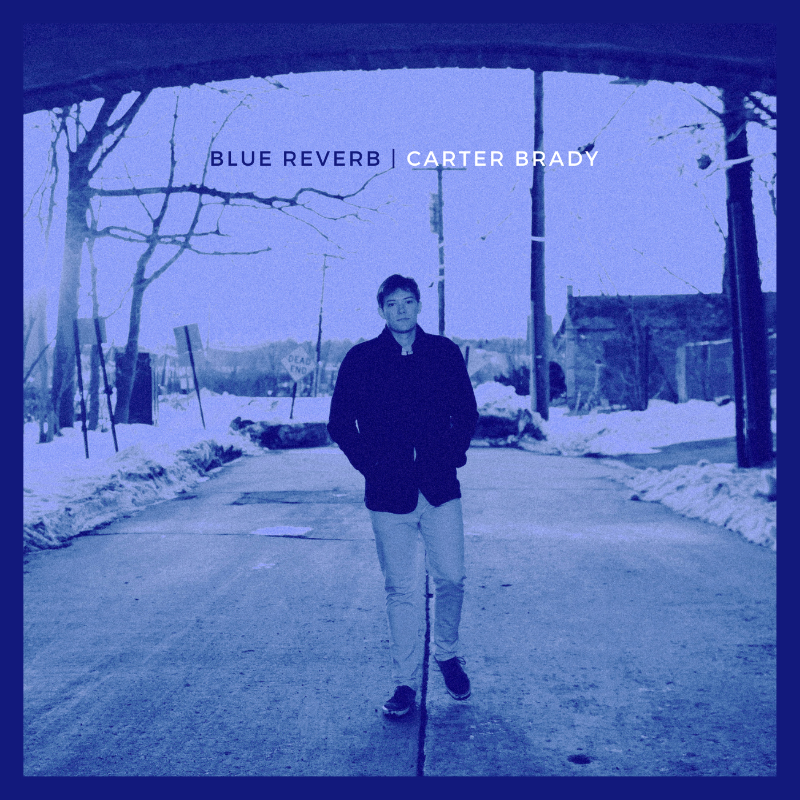 When asked what the title of the album means, Carter responded, "I use a 1978 Fender Twin Reverb throughout this album, giving the guitars that twangy and distorted reverb sound. The color blue comes from that kind of sad and upset feeling when you go through a tough time, like a breakup, a sticky situation, or a relationship" When listening to the 12 tracks, there is about an equal split between songs reminiscing of simpler childlike times and heavy alternative rock tracks.

Many different types of rock come together to form Blue Reverb's inspiration for this album. His modern rock inspirations include bands like Radiohead, Oasis, and Green Day. Classic rock like Led Zeppelin, The Rolling Stones, and the Beatles also are thrown into the mix. Carter Brady claims his biggest influence is The Foo Fighters which is definitely prevalent in this album.
 This album kicks off with the track entitled "Bring Me Back To You". The dreamy and rhythmic beat seems to be influenced heavily by Tame Impala and Cage the Elephant's sound.  The psychedelic-esque chords of the tune allow the listener to relax and enjoy Brady's lyrics to the fullest.
  "In a world without the laughs, Sometimes you're just a picture on the wall. I can't wait until you call." The realness and relatability he has with all of us is what truly makes Brady an incredible artist.  "Bring Me Back To You" sets Blue Reverb into motion on an incredible start, with many other amazing hits in the album. The next track, "Starlight," a song about Carter Brady's arching for fame, expresses his desire to be in the starlight. Hoping to make it big one day, this song is the next anthem of all the artists following their dream.  
"Other Way" kicks off heavy with energetic drums, then morphs into a slower tempo, before getting right back into the rock and roll sound. Carter describes the time he saw a beautiful girl and had to chase her, but she didn't give him the time of day and "just looked the other way." He recalls when life was young and he had all the time in the world. He follows this with moving lyrics on growing up. The ending is harsh but epic all at the same time.

After this banger, we are hit with the tune 'A Snowball's Chance in Hell'; a song Carter had previously released as a single a year prior but had parts re-recorded and remixed. The reverb of the guitar is similar to that of Blur's "Song 2." A grungier sound than before, Carter Brady explores new territory in the fourth track on his newest studio album. A mix of snare drums and cymbals, this slice of pop grunge is made loud with all the right instruments.
"Best of Two Worlds";  "Running Out Of Time" are both songs that will wow you. "Amateur" slows things down a bit. A sensual song with guitar solos galore, this track is about being new to the game. It starts, rhythm heavy, and ends with a dark, rich piano solo. The second longest song on the album, "Amateur" is a solid 5 minutes and 25 seconds, and we love every second of it.
Carter Brady Releases His Second Studio Album – Blue Reverb